The Devils Zone has learned that beauty queen Katherine Webb is not in fact Crimson QB AJ McCarron's girlfriend, but instead the star of the upcoming ABC reality show Alabama Slam 'Er.

The sultry brunette burst into the national spotlight during Monday night's BCS National Championship Game. She was strategically placed in the stands next to McCarron's mother, and appeared on screen several times accompanied by a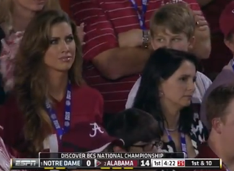 soundtrack of
heavy panting from play-by-play veteran Brent Musburger
.
"We've been planning to do a Bachelorette-type show where pathetic, lonely men vie for a chance to win the attention of some off-the-charts hottie," said a nameless ABC executive. "Ms. Webb was perfect for the part, but only had 500 Twitter followers as of January 6. That's when we came up with the brilliant ruse of planting her in the audience at the BCS National Championship game."

Leery of the public's increasing awareness of such stunts (no really! The entire cast of "Glee" are HUGE San Francisco Giants fans!), the show's producers felt a bit of subterfuge was in order. That's when Jim Spence, President of ABC Sports, suggested they announce that Webb is dating the quarterback of whichever team jumps out to an early lead. (Sources confirmed that a wardrobe attendant was nearby with an Everett Golson jersey at the ready, in case the game took a different turn.)

Unlike Notre Dame's tackling drills, the producers' plan paid off Monday night. Webb had over 30,000 Twitter followers before the end of the game, giving the show's producers not only an inordinate pool of socially challenged computerati from which to draw the show's contestants, but also millions of dollars worth of cross-promotional air time.

ABC executives were also ecstatic when McCarron played a nearly flawless game in guiding the Crimson Tide to the championship for the second year in a row.

"That was the icing on the cake,"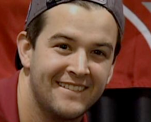 said one feckless suit, who noted that the coupling might seem less plausible were it not for the fact that McCarron is headed toward a lucrative NFL contract. "Because let's face it," the source continued, "he kinda looks like a dork. No way he's hittin' that if he ain't rich."
"Alabama Slam 'Er" begins production as soon as Musburger, who has been tapped to host, is available. Sources say this should be as early as 4 hours from now, plus the time it takes for an ER visit.