Human beings, the theory goes, invented music as a way to express their emotions. At least I think that's the theory...or maybe it's just my theory. Either way, one can't deny the powerful role music plays in helping us deal with what we're feeling. (Tell me you never made a mix tape for that guy or girl who broke your heart in high school. See?)

One of the strongest emotions, you'd have to think, is the pain we feel upon the death of a loved one. Case in point: according to Nikipedia, a Website I just made up to support this joke, Grok Uggamugg scored the first number-one hit back in the Cro-Magnon days with his chilling ode to his wife Rrrrrrhhhhh, who died after being impaled on a Stegosaurus tail. OK, all silliness aside...

It is the raw, unrestrained outpouring of dark despair, of soaring optimism,  and everything in between—coupled with virtuoso musicianship—that have earned Blackbird, by Alter Bridge the title The Definition of Music in my mind.

The link above goes to the song's live version so you can see, as well as feel and hear, what I'm talking about. (It's off the amazing Live from Amsterdam DVD.) Lead singer/rhythm guitarist/my-new-personal-Jesus, Myles Kennedy, foreshadows the epic with the opening strains of The Beatles' classic of the same name. So much significance is packed into these few bars of music: Kennedy wrote his Blackbird, the story goes, in tribute to a deceased friend who was also his first guitar teacher. The first song that teacher taught him to play was Blackbird, by The Beatles. This song, this performance, is Kennedy's posthumous gift back.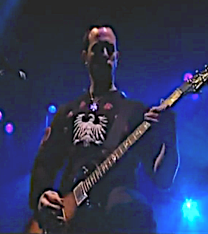 As the intro's final notes fade, the spotlight finds lead guitarist Mark Tremonti fingering the opening chords of the Alter Bridge
Blackbird
. The anguish that drives this song to such incredible heights soon becomes apparent as Kennedy's amazing voice, burdened with suffering, tells us:
"The willow, it weeps today.
A breeze from the distance is calling your name.
Unfurl your black wings and wait.
Across the horizon, it's coming to sweep you away."

A mournful wail from Kennedy's guitar floats eerily over Tremonti's arpeggios next, as if to say, "I'm hurtin' over here, and I need some help." When Scott Phillips's drums and Brian Marshall's bass explode into the song seconds later, it's like they're joining Tremonti in buffeting their grief-stricken mate. It's the musical interpretation of a distraught mourner breaking down at a funeral, finally unleashing a torrent of held-back emotion while collapsing into the arms of a few close friends. 

Next, a rejuvenated Kennedy doesn't so much sing the chorus as belt out a heartfelt plea, imploring the forces that lie beyond this realm:

"Let the wind carry you home,
Blackbird fly away.
May you never be broken again."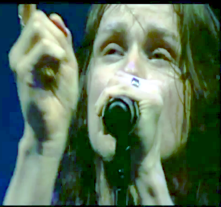 In the second verse, you can't help but feel Kennedy's anger as he rails against the injustices of our world and the toll they've taken on his fallen friend. The second time through the chorus, we're treated to an additional stanza that furthers the song's dueling emotional undertones:
"Beyond the suffering you've known.
I hope you find your way.
May you never be broken again."

Kennedy's four-octave voice really takes wing on that final "again," transforming it into a gut-wrenching ride through the full catalog of human suffering. The journey ends with a final, tender "oooh" giving way to a musical break that gracefully precedes the song's bridge.

And then comes The Solo. 

It's been voted
The Greatest Guitar Solo of All Time
by the readers of Guitarist
magazine. Appropriately, it begins with Kennedy—who calls himself a "guitarist who can sing" despite being one of rock's most respected vocalists—launching a string of
agonized cries soaring into the Amsterdam night. Each and every note screams with pain, Kennedy's fingers bending the strings to their breaking point as he pulls from them every bit of anguish he can muster.
When Tremonti takes over, the song's character seems to suddenly change from a painful lament over past loss into an uplifting celebration of an optimistic future. Oh, and the dude effin' shreds, to boot.

Following another chorus, Kennedy's outro picks up the new vibe, powering through over the rock-solid foundation laid by Tremonti, Phillips, and Marshall. It's as if he's signaling in the song's final moments that he's run the gamut of feelings, laid his soul bare, and given everything he has to honor his friend.

While Myles' guitar gently weeps over the final, waning seconds of this epic, we're reminded that the support of loved ones can only carry us so far. Profound loss is something we must all come to terms with in our own way. Songs like Blackbird give voice to these emotions, expression to these feelings, and strength to those in need of support.  

And that, to me, is The Definition of Music.